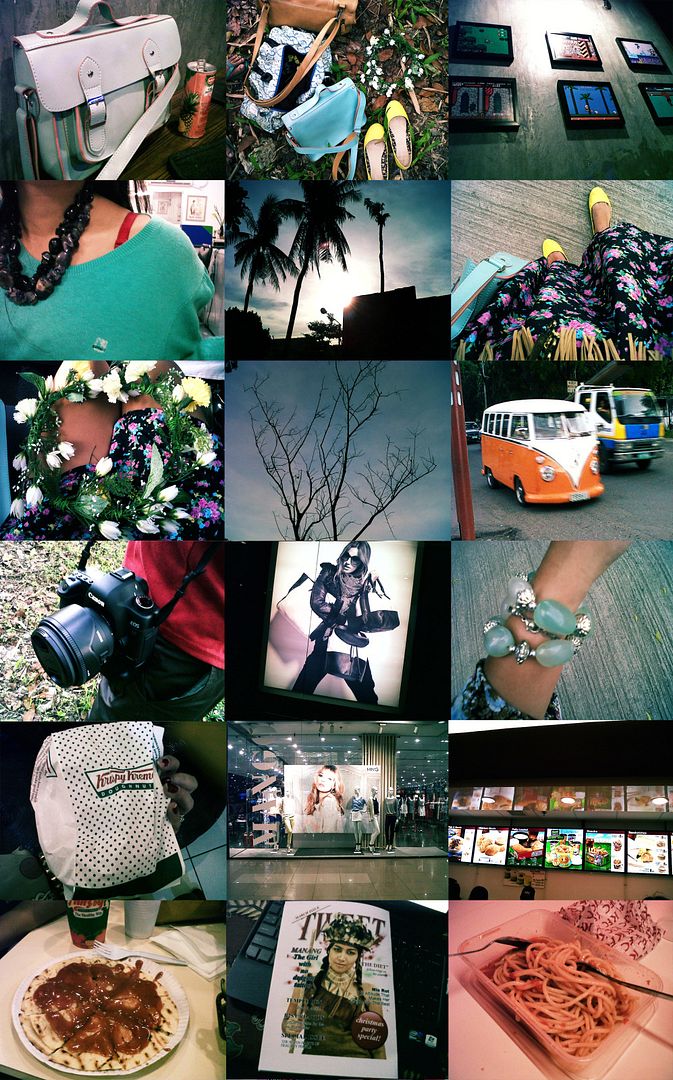 - I'm drawn to anything green lately; mint satchel &sweater, oversized green python bag, and green accessories. They look refreshing and they suit my skin tone i guess.
- Had an impromptu shoot with the boyfriend at some deserted part of family park. Believe me I didn't request it, he did. It was a pressure to pose for someone who had set you a high standard prior to the shoot. He said no blogger pose. So I had a hard time posing. haha
- Proud of myself that I made such a gorgeous floral headpiece for an engagement shoot we had a while back. Had to recycle it and try it for myself.
- Happened to see the cutest Volkswagen Combi on the street while hailing a cab. I want to hire it as a wedding car. I got hold of the plate number. But how to contact, that is the question.
- Dead trees are appealing, yes? Especially against the blue summer sky.
- This years summer is one of the hottest and the driest ever. I sweat even if I just got out of the shower.
- Boyfriend surprised me with Krispy Kreme donuts when we met up after work. A simple act of sweetness like this goes a long way.
- Window shopping and just literally window-shopping. I just stop and ogle at the beautiful clothes on display and don't dare go inside coz my self-control is not legendary. Mango displays are always tempting. Mango, you just have to wait till my self-imposed shopping ban ends.
- We've learned the art of compromise. Fair and square. One instance he had his way and we got KFC. The next day, I had quesadilla.
- If I want to go back to my 47.5kg self, then I have to stop eating pasta. Seriously.
- So this is how it feels to be featured on the cover of a magazine. A fake magazine that is. A friend from work made this and featured me wearing my Pocahontas costume last Christmas. As to why TWEET, make a guess. haha